* This post contains affiliate links, and we will be compensated if you buy after clicking on our links.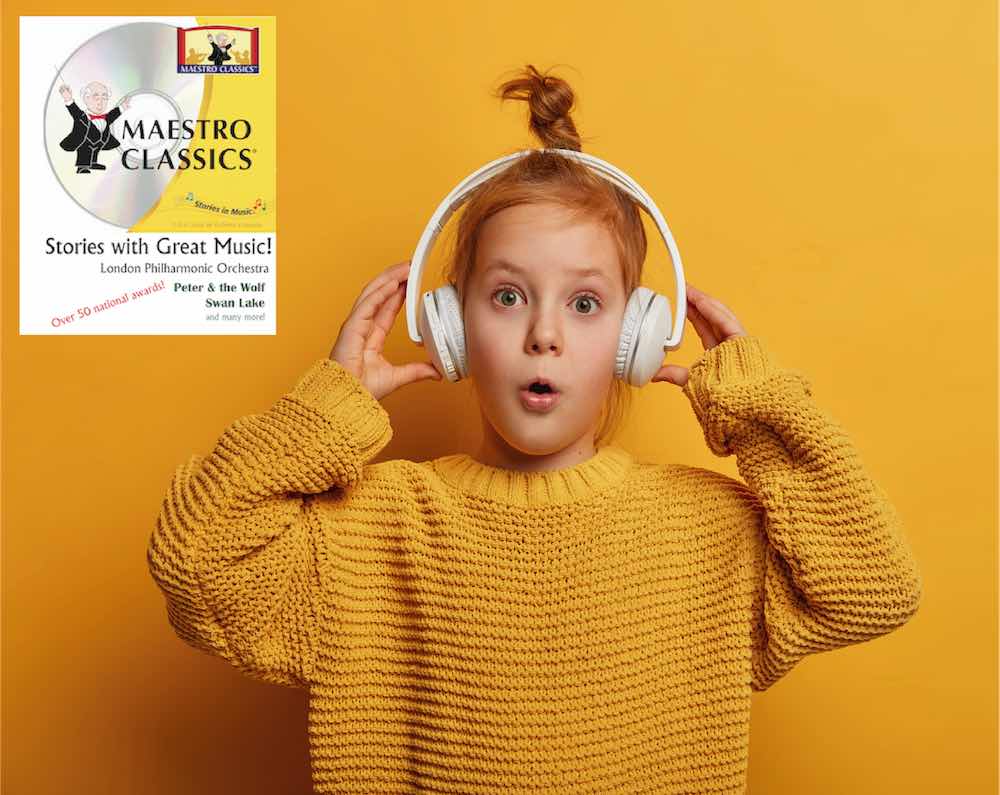 This is a review of Maestro classics a children's music programme that provides music lessons to children through audio tracks and activities.
As a musician of 15 years, a specialist in early years music education and (most importantly!), a mum to two year old twins, I am always on the look out for great products to help young children develop their ear.
Maestro Classics has some of the best resources for young children that I have seen. There are 12 pieces of music either in CD or MP3 format with some accompanying activities and worksheets. Over half of the tracks feature specific classical works of music while the others tracks are stories or poems set to music. Maestro Classics allows children to really hear the stories behind the different pieces of music and begin to develop an appreciation.
In this review I will look at what is included with your Maestro Classics purchase and how I have found using this product with my twins. I will also look at why this product is different to others out there and what makes it so unique.
Let's explore this unique product!
Contents
What is Maestro Classics?
Maestro Classics is a classical music scheme geared towards young students that is used to develop music appreciation in young children.
Maestro Classics originally began in Washington, DC where they played special children's concerts at the Kennedy Centre. The company then grew into providing CDs/MP3s of their work in order to broaden their audience and teach more children through music. And I am so grateful for this, Washington DC is a little too far from London!
Most of the CDs are recorded by the London Philharmonic orchestra making it all the more amazing.
Maestro Classics uses both music and talking to help explain the music to children. All music has a story and the creators work hard to show this!
Maestro classics is an excellent way to begin introducing young students, or even your own young children, to classical music. They cleverly manage to make everything relevant and engaging for all with the combination of music, spoken stories and explanations. Additional resources, such as pdfs sheets, makes it even easier to keep children engaged!
So what makes them so unique?
1. High-Quality Tracks
Perhaps my favourite feature of this music programme is their High Quality Tracks! Most programmes send you to different youtube videos or expect you to also pay for a streaming service. Maestro classics is different, they actually give you the tracks!
Maestro classics only uses the very best recordings, recorded by the London Philharmonic orchestra. As a British musician myself this appealed hugely – a fantastic orchestra that I have been listening to my whole life!
The maestro classics series currently includes recordings of:
The Nutcracker
The Story of Swan Lake
Peter and the Wolf
The Sorcerer's Apprentice
My Name is Handel
The Soldier's Tale
Carnival of the Animals
Merry Pranks of Master Till
Casey at the Bat
Mike Mulligan and His Steam Shovel
Juanita the Spanish Lobster
The Tortoise and the Hare
This is a great list of works that are sure to inspire any child.
Each CD or MP3 includes many different tracks, all to do with the main piece. One track will introduce the musical work, story or poem and then the other tracks vary to reflect the nature of each work. For the musical works that have no words, there is a narration against the music as a backdrop so that children can learn what various parts of the music are meant to convey or show us. Techniques used by the composer and musicians to create the different effects in each piece are also described. Later on, each CD you will hear the complete work without narration. At the end, there is then always an activity to involve children in music making themselves.
2. Learning as part of the music
Parts of the CD are almost like listening to an audio book. A narrator speaks over the track and starts talking about the life of the composer and the music that you are listening to. This may sound rather dull but Maestro Classics does an excellent job of sharing facts and information that will interest children. This focus on child friendly information is what sets maestro classics apart from other resources. They have an excellent way of being able to engage the younger audience into classical music.
Each of these pieces also have an age recommendation so you can choose the relevant pieces. I love this as it means I can slowly introduce these works to my children as they grow and develop without feeling the need to rush through everything!
3. Workbooks
Alongside each piece, I also love that you are provided with a workbook. If you purchase the CDs, this will be a hardcopy and if you have the MP3's then this will be in PDF format.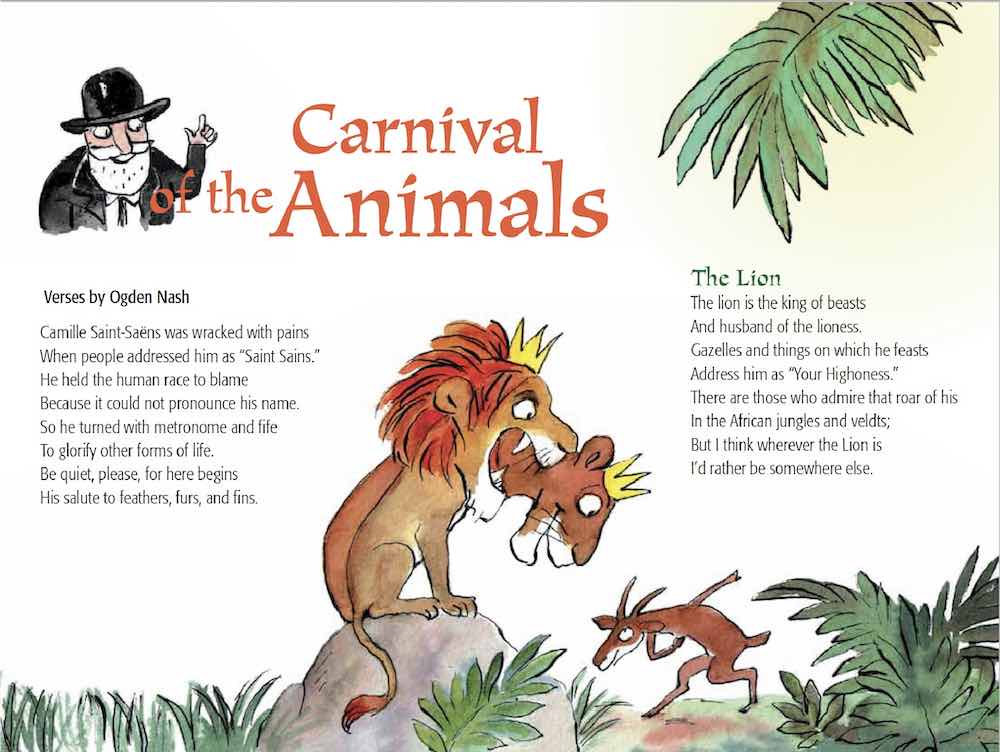 These workbooks provide you with stories, pictures, activities and more! Each workbook has an age recommendation which makes it easy for you to pitch it to the right students.
The carnival of the animals is aimed at students as young as three and this workbook simply has wonderful stories, beautiful images to encourage talking and a simple piece of written music. Moving through the CDs, the workbooks can include activities such as crosswords, mazes and ways to expand listening beyond the tracks. There is opportunity to learn about the instruments of the orchestra, note lengths and rhythms, dynamics and much more.
Each work book provides you with beautiful child friendly illustrations which helps to engage them.
Maestro Classics provides a really unique organised curriculum that not many other companies offer.
Range of Products and Pricing
Maestro Classics offers each album on its own, for example 'Peter and the Wolf' is $16.98 for the CD version or $9.98 for the MP3. This includes the pdf booklet and you can even sample each track on the website before you buy.
Each album comes with an age recommendation based on the themes in the music. For example 'Carnival of the Animals' is suitable for ages 3+ and 'The Soldier's Tale' for 8+.
You can also buy the complete collection of all 12 CDs for $149.95 or as MP3s for $99.98. These bundles are great value and come with all the pdf activity booklets included.
Who is it best for?
I have been looking for a product that means I can introduce music to my children without spending a huge amount of time planning, and Maestro Classic certainly delivers this. The tracks and activities develop active listening to music rather than lots of written exercises. This is great for children as young as 2 years old and my twins love listening to the tracks. It is great to see them becoming active little listeners. As they get older, there is even more scope for learning with the narration and booklets.
Some tracks include the complete piece while some of the others are abridged. The total playing time of each track is less than an hour with some tracks lasting up to 25 minutes. This means they are great for car journeys too.
Each album has a recommended age range which goes from 3+ to 8+, however children as young as 2 will enjoy the high-quality tracks. If you are home schooling, the curriculum guides provide great info linking to the main subjects. The age recommendations on each album are a good guide as they are based on the themes in the music. Older, or more advanced children would gain even more from the activities and especially the information on the composers.
Alternatives
Here are some other websites and curriculums I love to use with my children and young students.
Classicsforkids.com
This website provides games and resources which you can plan yourselves. It is an excellent resource but mostly aimed at slightly older children. The website is an incredible free resource and provides lots of free print outs about different composers and different pieces of classical music. There is also a matching podcast which is a great thing to use, each episode is just 6 minutes long and the website does provide some free activities to use alongside these. (We use this on long car drives!) I do think this website is an excellent place to start on your children's journey to classical music appreciation if your children are a little older.
Squilt (Super Quiet Uninterrupted Listening Time)
Squilt is another great alternative. This website is designed mostly to help those that are exclusively home schooled, but I also love this as a mum, as it means I don't have to plan things to get my children interested in music.
Squilt has a few ways of working, you can purchase different specific activities to do with composers, instruments of the orchetsra and also seasonal specific activities. If you purchase this from the store you will then be given a download link for a PDF file. This PDF file will give you many activities to do with your children, although some of the activities are more suitable for older children, some of them such as drawing what you hear I have loved using with my 2 year olds!
If you purchase the squilt complete you will be given everything to help develop an appreciation for music. A small investment for a lot of content! You can also become a member for this website which is fantastic as it gives yu access to all of the content but it also gives you access to two live lessons a week with the founder! What a treat! The only downside to these live lessons is that this is an american site so for those of us on here that are from the UK the live lesson times are a little bit late. However, they are recorded so we can still access these quite easily.
These live lessons are based around a music calendar that you are givenwhich will slowly develop your childrens and students music appreciation. The calendar also allows you to plan extra activities on the same theme if you want to!
I do think that squilt is more of a formal curriculum which would suit slightly older children – so could be a great place to go after maestro classics! It should also be noted that you also need a music streaming service or rely on youtube to use this curriculum as they do not provide the actual recorded music for you!
Find Your Own Tracks
Other alternatives that I have enjoyed are the various books on offer at Amazon and of course simply choosing and listening to music on YouTube, Apple Music or Spotify! However, using some kind of curriculum, certainly for me, makes life a little easier as I simply do not have time to be finding suitable pieces for my children to listen to.
Should You Buy It?
Maestro classics is an excellent set of CDs or MP3 downloads to help develop an interest in classical music for your children or your students. I have hugely enjoyed using all the selection of curated tracks with my children and love how they are designed so well for children from 3 to 15 years old. Having the pieces hand-picked for me, with all the important information added, makes it an excellent learning resource. It is simply a bonus that each track comes with PDF worksheets and activities.
If you are looking for something to help support your children to develop an appreciation for classical music then this is really for you!