ABRSM Grade 5 music theory is one of the most popular music theory courses for students to take. Music theory is a vital skill for developing musicians as it improves your music literacy skills (being able to read music notation and performance directions etc) as well as your music listening skills and much more. Being able to understand music theory helps you to read your sheet music in order to play your instrument better! So let's learn music theory!
But what are the best music theory books to help you study for this popular music exam?
[thrive_leads id='13990′]
ABRSM Discovering Music Theory
At the top of the list I will mention the ABRSM. ABRSM designed the syllabus for this exam and therefore this is great place to start. They have a new series of work books called discovering music theory that come with corresponding answer books.
This series of discovering music theory workbooks follows the entire abrsm grade 5 music theory syllabus and also includes the option to purchase the corresponding answer book that goes along with the workbook. Answer books are excellent if you are studying alone.
However, these answer books do not show the workings to get to the full answer. This ABRSM book is a full colour workbook which makes it very easy and clear to use. You will be able to build skills by making use of the progressive exercises, challenge questions, worked examples and specimen exam questions. Although this book is obviously fully supporting of the grade 5 theory exam, you will need a teacher or a more explanatory book to really deepen your understanding.
Alongside the discovering music theory workbooks abrsm does offer the AB guide which explains topics in detail. However, this is not particularly young student friendly but is a great reference guide if you need to search a particular topic. Adult learners may find this book a great start to music theory.
The ABRSM also offer practice papers as well as new online papers that students can use to help them prepare for the exam – make sure to check out their website as it will be an excellent resource as you progress towards taking the exam.
Music Theory Foundations – Grade 5 Music Theory – Jade Bultitude
This is the book we offer here at music theory foundations. This book provides clear explanations to all topics needed for grade 5 theory. Our aim for this book is to help equip students with really focused explanations of new concepts as well as lots of helpful tips to really make sure you understand all concepts and extend learning. Music theory foundations makes theory engaging and relevant by linking theory to it's practical uses
This book will give you all round preparation for the exam and it is a great accompaniment to all workbooks. Our idea is that this accompanies workbooks/question books as it provides deep and full explanations for every topic need for the abrsm theory syllabus.
All topics are built from the ground up so you have a thorough understanding of everything all within one book. This is different to your typical workbook which does not provide full explanations for all topics.
[thrive_leads id='13990′]
Music Theory for Young musicians (Grade 5) – ying ying ng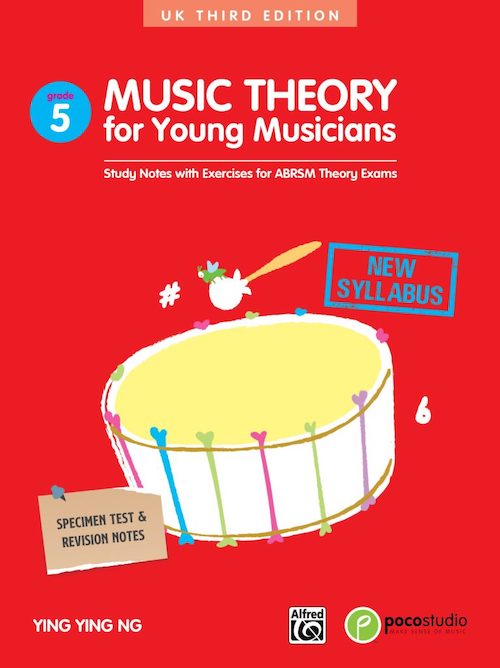 This book is another lovely colorful workbook for Grade 5 theory. This book has a nice progression through the abrsm music theory syllabus. It does need updating slightly as the book does still include composition which is now no longer in the exam. However, all other topics are within this book and written in a lovely clear way that is engaging for the student.
Ying Ying briefly explains each topic and then provides progressive exercises to help you really understand the topic in detail. This book does not include a corresponding answer book so you will need a teacher to help you mark your workings.
[thrive_leads id='13468′]
How to blitz! aBRSM grade 5
This book is another great question book to help you prepare for the ABRSM music theory exam. The explanations within this book are laid out very clearly and it progressively moves through the abrsm music theory syllabus.
Unfortunately this book does not provide an answer book so again you will need to make sure you have a teacher or purchase a clear explanation book to help you.
There are so many ABRSM Grade 5 music theory books on the market at the moment that will help you prepare for this exam. I believe a combination of these books offers all round preparation for the exam, particularly if you are learning by yourself.
If you are interested in getting a kick start to music theory then do download our free guide. This guide supports you with the new style exam and if you like it then please go ahead and purchase our new Grade 5 music theory book!
An Online Guide to Grade 5
If you want to know everything about Grade 5 Music Theory (including the syllabus and examples of each concept you need to know), have a look at our Complete Guide to ABRSM Grade 5.
[thrive_leads id='13990′]