* This post contains affiliate links, and we will be compensated if you buy after clicking on our links.
This is a review of tone gym – a complete ear-training app for musicians.
I am a musician and music teacher with 15 years professional experience. In that time, I have constantly been searching for ear-training programmes to help my students refine their skills at home.
Pros
Extensive list of training (you won't need anything else)!
The games and rewards keep you motivated.
Great online community.
Cons
More expensive than other ear-training apps.
No mobile app yet
My verdict on ToneGym – it really is the ultimate ear-training app. For music students, it has a great range of tasks for practicing and improving your ear. The quality and depth of the training is well worth the price. For teachers, it not only allows my students to practice their ear training at home, but gives them a complete experiences including links to music theory.
In this review I will show you what you can expect to see in the ToneGym programme and why I believe it to be one of the ultimate resources out there for all students.
Let's get started!
Contents
What is toneGym?
ToneGym is a gym for the ears. The programme allows you to create an aural-training program that fits you as a musician, in the same way you might create a workout programme based on your fitness goals.
The gym includes ear-training games and music theory exercises. You access all this through their website (rather than being a separate app).
The exercises in the gym focus on improving your core skills, including:
Interval detection
Recognising rhythm
Scale recognition
Chord progressions
Sight Singing
Recognising chord inversions
ToneGym gives you all of these exercises in game form, making it more enjoyable to keep up the practice. To make it even more engaging you can participate in contests, compete with friends, move up levels, earn coins, buy virtual goods and win different awards and prizes.
As you move through the programme, statistics will show you your strengths and weaknesses, and you can also sign up to a free music theory school where you can learning from online courses. There are also interactive music theory tools such as the Chord Analyser, Progression Generator and Interactive Circle of Fifths. the integrated forums allow you to communicate and share knowledge with other users.
Is Tone Gym any good?
Tone Gym is a brilliant tool that gives students the opportunity to practice all the main ear training elements. Its main strength is that it has such a comprehensive range of games and activities. These will not only improve you as an overall musician but also when it comes to the aural training in your music exams, whether this be for ABRSM, Trinity or school exams you will be completely prepared!
Trainings
Tone Gym has a wide range of activities that focus on different musical ideas. These main ones are listed below.
Chordelius – Practice chord identification. As you get better, more and more challenging chords are introduced!
Solfegiator – This gives you a short notated melody to sing back – can you read the notes correctly?
Intervals – This allows you to recognise intervals that are played simultaneously i.e harmonic intervals
Rhythmic Parrot – Accurately tap back a rhythm.
Departurer – This activity gets you to recognise ascending intervals.
Scale Spy – This game focuses on recognising scales, the better you do the more challenging scales you will be faced with.
Lander – Similiar to departurer but the opposite; asking you to recognise descending intervals.
Melody Jay – This is another 'repeat the melody' activity but slightly different. This time you will have to listen to the melody and sing it back… no notation involved!
Route VI – In this activity a chord progression is played and you have to recognise it! The better you get the trckier the chord progressions become.
Melodix – Another melody activity but now you must choose the correct notation for the melody that you hear.
Rhythmania – Tap rhythms using your space bar!
Notationist – Click the correct notation as fast as possible by identifying the correct note name.
Interval barks – A note will be played and the name of an interval will be written. You must sing the interval stated above the note you hear.
Calibrator – Listen to a variety of intervals and select the largest one.
Inversionist – A chord will be played and you have to recognise what inversion this chord is played in.
With this range of games, it really allows you to focus in on a particular skill set.
What I really love about Tonegym is its flexibility. You can go through the games at your own pace and develop your own programme. Or, if this seems like too much work, you could check out the daily workouts.
Daily workouts select five different exercises which you can complete each day. Once complete, you earn tonecoins that can be spent in the ToneGym shop. I really enjoy this feature as it curates a few exercises so you can keep up your ear training daily. These games do not take long to complete and so it means that you can keep up your training in an easy to keep up way.
Learning
The programme also has a learning section which includes many videos to explain different ear training and music theory aspects. Although not made by ToneGym themselves, they have curated them in such a way that makes it very easy to use and navigate.
These videos are in-depth and are available to watch and rewatch at your leisure to ensure that you have understood all aspects. For each video and learning you do, you can earn learning points. Once you have achieved 15000 learning points you can then apply for the ToneGym certification. However, they will only allow you to do this once you have done a lot of learning and therefore can prove that you have increased your knowledge!
You can compare your progress to others in the app itself and discuss all aspects of ear training the the forum on the dashboard.
Contests
Another favourite aspect of ToneGym is the contests. These add a really fun competitive aspect to the programme which really keeps users engaged. There are different contest 'rooms' including:
Melody Playground which provides weekly contests. In this contest the programme plays you a melody and you need to find the correct notes and rhythm as fast as you can!
Sight-Reading Playground which has weekly contests. This contest is based around recognising different intervals and finding specific notes on a stave.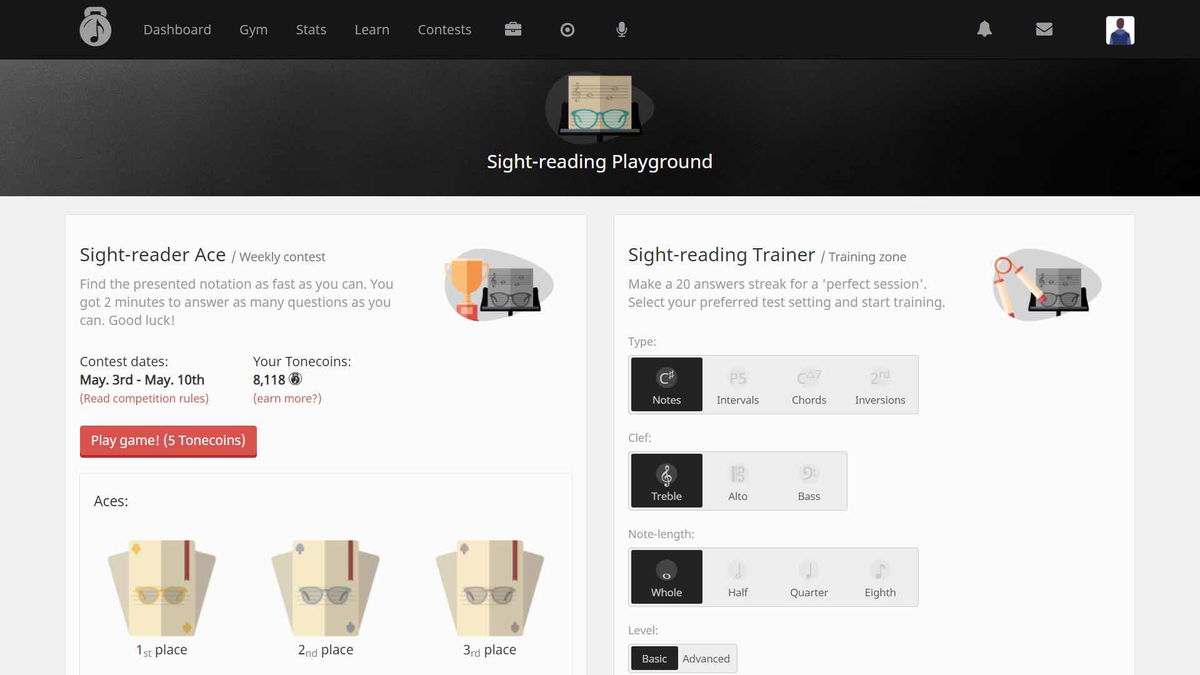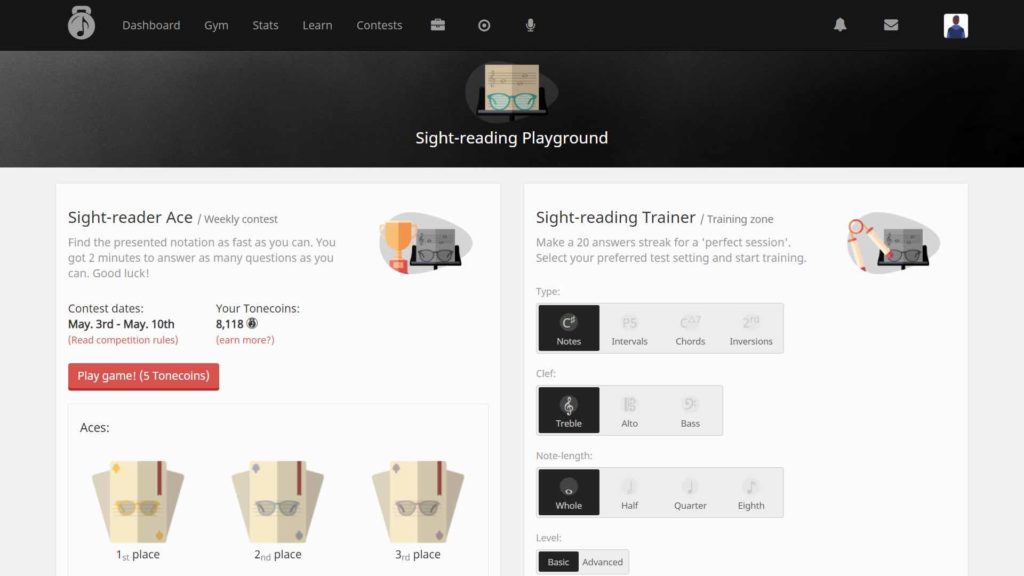 The Olympics which provide semi-weekly contests! Each olympics is based around a different skill set – can you win a gold medal?
You can easily see how you compare to other learners in your country and also other users in your league as well as the best students each month! I love the fact that you can compete in real time.
They even have a monthly prize for reaching the top of the leaderboard each month.
Each of these contests also have a forum where you can discuss the best ways to reach the top of the leaderboard.
Pricing
ToneGym is free to try with paid options to access all the features. We recommend signing up for the free account so you can get to grips with the basics.
There are three options for pricing:
Monthly – $13.95
Yearly – $75.00 (at $6.25 per month)
Lifetime – $255.00
The puts ToneGym firmly at the top end of market. The quality of the programme speaks and nothing can match its well-researched training methods, contests and games.
For this reason I believe it is well worth the money if you want to invest in a complete ear-training programme. The lifetime access is a great price if you want to sort your ear-training for years in one go!
Alternatives to ToneGym
Looking for something slightly different? These are my favourite alternative apps and programmes.
EarMaster
Earmaster is another great product out there to help train your ear and it also includes music theory content. This programme has four main modes, a beginners course, general workshops in rhythm, melody, intervals, chords and scales, jazz workshops and customized workshops. There is a huge amount of content on this programme and if you use it correctly and regularly, it will improve your ear!
This programme is slightly cheaper than ToneGym, but it is a little harder to navigate and track your progress.
Rhythm Trainer
Rhythm Trainer is another excellent app to use to improve aspects of your ear training. Unlike ToneGym and Earmaster though this app has a large focus on… you've guessed it… rhythm! This app has many different levels each gradually building your rhythm skills by adding more and more complex rhythms as you move through the app. There are two different modes in each level, 'listen and repeat' and 'sight reading'.
You are able to use the app for free in 'listen and repeat' mode for 10 minutes each day, but if you would like access to the sight reading aspect and longer than 10 minutes then it will cost £4.99 a month.
Functional Ear Training
Functional Ear Training is a solid app to use to improve your ear training. The app is an adaptation of Alain Benbassat's functional ear trainer which is a desktop programme. This app has an intro game to test your knowledge before you begin. This uses the solfege method and you must choose the correct pitch. There is then a 'learn the method' section which talks you through the theory behind ear training. After this you can move into basic training.
This app is completely free but it is encouraged that you make a donation via paypal! This is a great app but is limited in the type of exercises you will be given. It's also tricky to navigate for beginners and young students.
Chet
Chet is the final ear training programme I have been looking at. This is another well-build app with many different trainings to help improve your ear. You will be able to practice hearing intervals, scales, arpeggios, chords and much more. Chet also includes a more competitive aspect called 'chet masters' to keep you interested. Although there are no prizes, it is exciting to watch yourself move up the leaderboard!
This app is completely free and for a free app it includes a lot! However, if you are looking for a little more structure and focused work on improving your ear I definitely would recommend ToneGym or EarMaster.
Should you invest in Tonegym?
ToneGym is a fantastic way of improving your aural abilities, it achieves this by making the programme fun and engaging with lots of elements to hold your interest! Rather than simply being the standard, relatively boring, way of improving your ear, the addition of games and competitions really encourages you to keep coming back each day.
ToneGym is an extremely unique approach to ear training with the added bonus of learning music theory as well. The large collection of activities, competitive aspects and learning tools make ToneGym the perfect way to improve your ear training and music theory skills. Being able to practice in short bursts is one of the things that makes this particular programme so effective.
There is also something for everyone, whether you are well versed in your ear training and music theory or if you are a beginner!
Give this programme a try!