There are several different types of flute ensemble, including the flute duet, flute trio and flute quartet! Perhaps one of the most exciting forms of flute ensemble is the flute choir!
Flute choir
A flute choir is essentially a large group of flutists all playing together! A bit like a flute orchestra.
They usually consist of all the different types of flutes, including the piccolo, c flute, alto flute, bass flute and sometimes even larger flutes such as the contrabass or double contrabass flute!
Flute choirs did not begin surfacing until the 1960s in colleges and in the community. There was not much music written for this type of ensemble and so often the directors and conductors of the choir would compose and arrange music.
How many members in a flute choir?
The members of a flute choir really depends on who you have available but the ideal set up will be four people on each part (flute 1, flute 2, flute 3 and flute 4). You will then need at least two people on alto flute, two people on bass flute and ideally one player on the piccolo!
What is the instrumentation of a flute choir?
A flute choir is obviously a group of flutists! However, the instruments used within it may not be exactly what you imagine when you think about a flute player! 
Of course there will be many C flutes, but in addition to this there will other types!
You will see piccolos, alto flutes, bass flutes and sometimes even contrabass flutes and even larger flutes!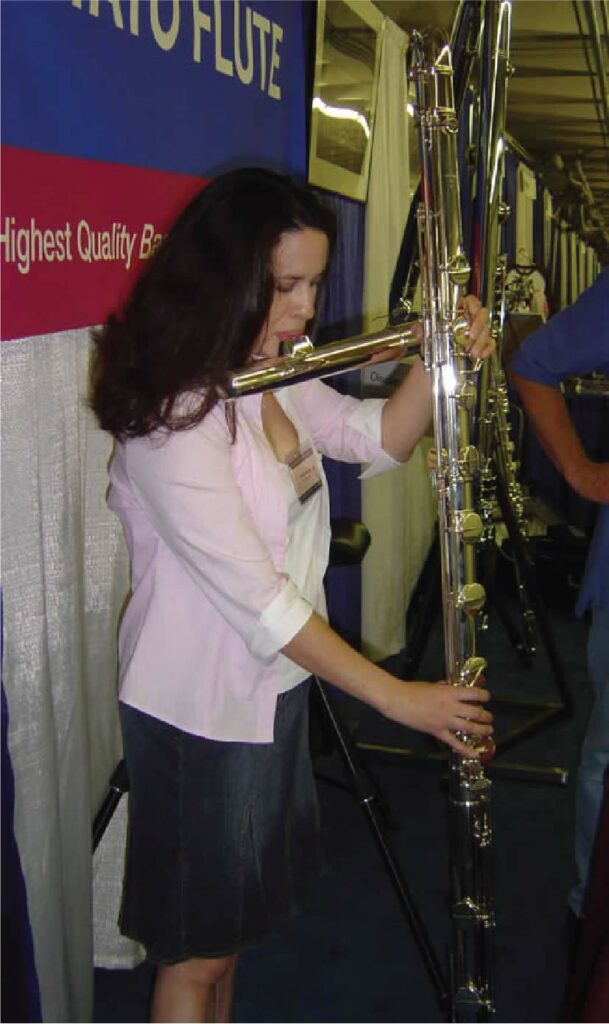 What music is performed by a flute choir?
A flute choir requires special compositions due to the unique instrumentation. They have only been established in recent history and so there are not a great many composers that have written for this arrangement.
Often, there will be local composers who have written for their local flute choir! But as these ensembles have become more popular and are performing a lot more, we are starting to see a lot more!
Some of my favourite composers for flute choir are Ian Clarke and Mike Mower.
Where can you find a flute choir?
If you are looking for an ensemble to play in then it is important to look at your local community. Look at local music schools and look at local Facebook groups to see what is going on in your area. Just Flutes also has a handy search page for ensemble.
It is also worth looking at the different flute societies out there. In the UK there is the British flute society and in American the national flute association. The National flute association conventions are an ideal place to find a flute choir! Many choirs may require an audition for their members and you will need to make sure that you can commit to the rehearsals. 
Below you can see the Iowa City Flute Choir performing a concert at one of the national flute association conventions. Notice how the performers are playing the full range of instruments (except the piccolo!)
What's next…?